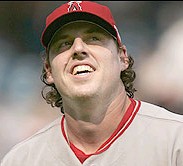 John Lackey brought his bag'o'suck to Fenway last night and single-handedly snuffed any hopes for October baseball. Anyone that didn't see this coming just hasn't been paying attention to Lackey's depressing season. In his three previous starts aganst Toronto, he'd given up 16 runs for a robust 7.71 ERA. And he was all over the map from the get-go last night, hitting batters and grooving pitches for four-and-a-third innings. When the dust settled, he'd given up six earned and put the Sox in a deep hole.
The Red Sox bats actually made this one interesting, battling back in the late innings to get to within two runs in the ninth. With a runner on and two down, Victor Martinez represented the tying run at the plate. The same Victor Martinez that had already hit a pair of two-run homers. But it wasn't meant to be and the Sox lost 11-9. With the Yankees winning, well, things aren't looking very bright.
I really can't decide who I'm more disgusted with: Lackey for taking a steaming dump on the season or Theo for signing him, knowing he couldn't pitch in the AL East. That's what I get for listening to a puppet.