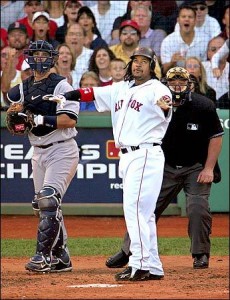 Forget about Earl, Hurricane Manny touches down in Fenway this weekend. I think I've made my position clear on this; I'd cheer my ass off for the guy if I was at the park. But I know I'm in the minority and will take my beatings in the comments section for being a fan of what Manny did for the Red Sox while he was here.
With the season all but over, we can take pride in the individual awards our players earn. Clay Buchholz is the American League Pitcher of the Month for August:
Buchholz went 4-0 with a 1.03 earned run average and 28 strikeouts over six August starts. The right-hander finished the month second in the A.L. in ERA, tied for second in wins and tied for third in innings pitched (43.2). He is also the Major League-leader with a 2.21 ERA on the season and ranks among the A.L. leaders in wins (t-3rd, 15), winning percentage (4th, .750) and opponent batting average (4th, .222). Of Buchholz' four wins in August, three came against A.L. East rivals (Toronto twice, New York). The 2010 All-Star tossed at least seven innings in five of his six starts on the month and allowed no more than one earned run in five of the six. In August, Buchholz pitched a career-high 26.2 consecutive scoreless innings. During that stretch, the 26-year-old made three consecutive starts without allowing an earned run (August 11th at Toronto, August 17th vs. Los Angeles, August 22nd vs. Toronto). This is the first career monthly award for Buchholz. Along with Jon Lester (May), it marks the sixth time two different Boston pitchers have earned the honor in the same season, and the first time since 2002 (Derek Lowe in April and Pedro Martinez in July).
Let's not forget how close Clay was to being 5-0…