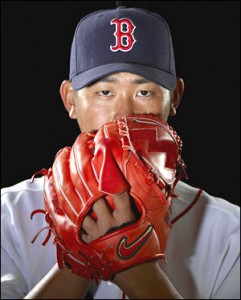 Dice-K goes for win number ten tonight. Unfortunately,other than people on the west coast and a few drunks around here, I'm not sure many people will be up to see his effort. Sure, I'llbe up, but people with real jobs and lives aren't going to stay up until midnight to see Dice-K battle Ichiro, are they?
This might actually be a bit of an audition: would anybody be surprised to see Dice-K traded during the off-season…perhaps to Seattle? Don't forget the Mariners were the victim of one of the most one-sided trades ever: Heathcliff Slocumb for Jason Varitek and Derek Lowe. Theo should be licking his chops to negotiate with them.
As we speak, the Yankees are beating the Rays 6-2. Who are we supposed to be rooting for if we're pretending the Sox still have a chance?