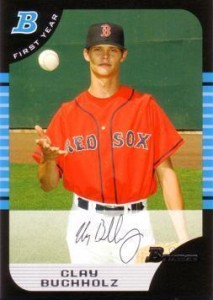 Help me out here, SG Nation. Am I just being a complete homer in thinking that Clay Buchholz has a good shot at winning the Cy Young? After last night's dominating win, he is 17-7 with a 2.34 ERA, and will probably get one more start against the Yankees.
C.C. Sabathia has 20 wins and a boatload more strikeouts, but his ERA is now almost a full run worse than Buchholz. And are his 20 wins a product of his pitching or the Yankee offense? David Price has 18 wins and almost as many K's as the fat one, but his ERA is a half run higher than Buchholz. Felix Hernandez leads the American League in ERA (2.31), innings (241.2) and K's (227) but only has 12 wins to go with 12 losses. Although in seven of his 12 losses he has given up three earned runs or less. The next guy on the list is Jon Lester, and who among us would mind seeing that?
Sabathia pitches tomorrow against a potent Jays team while Hernandez also faces an good offense in Texas. Price could up his chances with a good start against the O's tomorrow. Lester goes Thursday against Chicago and Buchholz should go again Saturday at home facing the Yankees. It's possible Hernandez could pitch again Sunday while Sabathia and Price will no doubt rest for the post-season.
Pretty good drama for an individual award. And hey, it's all we have…