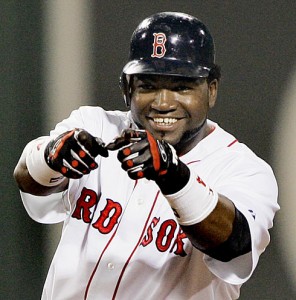 A loss yesterday might have been the fork in the 2010 season. The Red Sox threatened all day, they teased us more than Julie Kenney's hemline did in ninth grade, but couldn't break the ice until the seventh. Finally, finally, a couple of runs were on the board. Ortiz stepped to the plate with bases loaded and images of the night were in everyone's head. But it wasn't meant to be, not yet, as Ortiz struck out swinging.
In the ninth, lightning struck again. The Sox had runners on second and third thanks to a pinch-hit double from Jed Lowrie. Then Jim Leyland "pulled a Scioscia" and intentionally walked Youk to get to Big Papi. Yeah, you read that right. Papi thanked him for the opportunity with a bases clearing double: ball game. Why managers insist on pitching to him remains a mystery.
Putting a microphone in front of him is no mystery. His quotes are becoming almost as memorable as his hits.
"I was having a crazy day today," Ortiz said. "I faced a few situations and I didn't come through."

But he did when it was most important.

"I won," he said. "That's it. Game over."
Word. Tomorrow, we get the magic of Dale Scott behind the plate. Put the steel mesh in front of the TV and bolt down the lamps, this could get ugly.