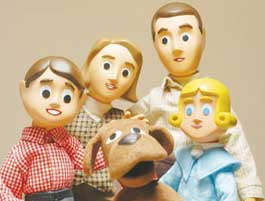 At the beginning of the season, I figured Beckett, Lester and Lackey would be the keys to our success, the studs who'd keep us from any prolonged losing streaks and keep the Yankees nervously peering over their shoulders. As for Buchholz, I wrote him off as trade bait, a guy who probably wouldn't be with us long enough to have an impact on our fate in 2010.
Man, am I sorry about that. Because Buchholz has emerged as the one pitcher on this staff who's been flat-out fun as all hell to watch. In a season marked by an almost comical parade of injuries, starters morphing between Superman and Clark Kent with every start, and the shadow of the "world champion Yankees," Claymation has provided 2010's best storyline. He's been a model of consistency, and his numbers are scary good, with 15 wins and an AL-best 2.26 ERA. The guy's now gone 23 and 2/3 innings without giving up an earned run. And that, as my Uncle Pietro used to say, doesn't suck.
Big Papi says Clay's the best. Who the f**k am I to argue?
The Yanks and Rays won today as well, so we don't gain any traction. But we're not losing any ground either, and that's important as the summer grinds to a close.