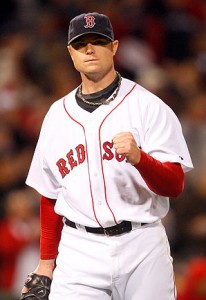 No, not "cut a hole in the box." Get your minds out of the gutter please. Step one was to win game oneof this three-game series, and Jon Lester saw to that. Seven strong innings of two-hit ball while striking out seven. Bard in the eighth, Papelbon in the ninth. Didn't we used to have a similar mantra a few years ago, the names have changed but it rings a bell.
Papelbon didn't have a clean ninth, throwing over 20 pitches for his eighth straight appearance. Is his control that bad or has he just lost confidence in the fastball? Anyway, it's a big win in itself, but throw in the Yankees getting clobbered behind AJ Burnett, and it just gets better.
Not only did the Sox take care of business by beating the Rays, they beat the best of the Rays, handing Price just his sixth loss of the season and pushing his ERA over three for the first time since April.
Tomorrow night the Rays have to face the best the Sox offer in Clay Buchholz. If they somehow pull this season out of the fire and make the playoffs, Francona has to be named Manager of the Year. Otherwise I know one big-screen TV that will have Red's assprint on it.