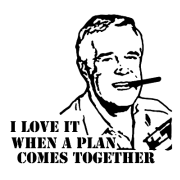 The starter goes seven, Bard pitches the eighth and Papelbon nails it down in the ninth. Meanwhile, the top five in the order go a combined 9-for-19 with three doubles, five walks and  homer. Throw in a great catch by Nava that probably saved a run in the eighth, and it all adds up to a nice "W."
If you look a little closer, it wasn't exactly perfect. Lackey did go seven for the win, but he gave up five runs on ten hits (two of them homeruns) along the way. Not dominating against a so-so team, but a win nonetheless. What was dominating was Papelbon's performance, striking out the side on 14 pitches. Also great to see was Dustin Pedroia going 1-for-3 with a walk and a stolen base.
Once again, the Sox get no help from either Detroit or Texas and hold steady at five-and-a-half back. Tomorrow night we get Josh Beckett…hopefully the good Josh Beckett, not the dude that's given up 13 runs in his last two outings. Red and I will be watching the game at the Lansdowne Pub and trying to talk you out of a few bucks during our second annual Jimmy Fund RadioTelethon Event. Hope to see you and your cash there.