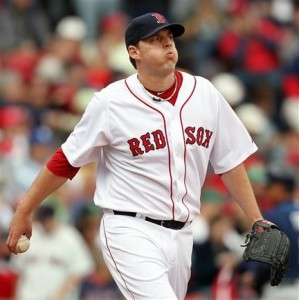 That's the response you get from the 80-million-dollar pitcher who just pounded another nail in the almost-complete coffin for the 2010 Red Sox. From The Herald:
"Fifth inning, honestly, I made a lot of good pitches," Lackey said. "They kind of nickel-and-dimed me to death on that one. I made some pitches and had several balls just out of reach."

"You can do what you can do," Lackey said. "I executed pitches in that fifth inning and I didn't have a whole lot to show for it. I definitely think I threw the ball better than the numbers are going to show today, for sure. My stuff felt good, I got some strikeouts when I needed them. It's just one of those things."
Yeah, you had good stuff and you executed…and gave up five earned in six innings? I would have at least had some respect for the guy if he just came out and said "I didn't get it done" instead of playing the bad luck card. This was arguably the biggest game Lackey has started in a Red Sox uniform, and he came up way short. As he always does against the AL East. He can't hold a lead and he can't keep runners off the bases.
Thanks to Small Game James and our friends in the Great White North, we are still in the race. The pressure falls squarely on the shoulders of Beckett and Lester over the next two days to keep the season alive. So we've got that going for us, which is nice.