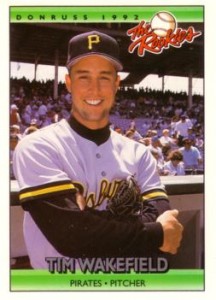 Another huge opportunity pissed away. With both the Yankees and Rays (3-hit by Baltimore) losing to inferior teams, the Sox couldn't hold a six-run lead that would have inched them closer to the post-season. I five-home-run explosion is wasted by Beckett and the bullpen. And the ultimate kick-in-the-crotch is administered by Nelson Cruz: a walk-off homer on the first pitch thrown by Tim Wakefield.
Francona, playing the role of Mr. Glass-half-full, had this to say:
"That's a guy that's swung the bat very well against us. We were in a situation where there was nothing else to do," manager Terry Francona said. "Wake was going to pitch 'til we won or lost. The good news is he won't be tired."

Wakefield left the Red Sox clubhouse without talking to reporters.
Two last two games were more painful than tea-bagging the garbage disposal. Let's hope Lester and the boys have something a little better in mind for a lazy Saturday afternoon.
In more important news, I found Sean, the junior-high Yankees troll that has spent his pre-teen years trying to annoy us in the comments section! WARNING: By clicking that link you will quadruple his traffic and probably send him racing to his mom's bathroom with soiled Underoos.