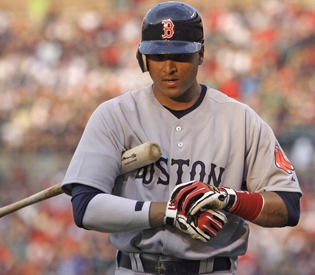 Sweet Jesus, I just want to see a win. A sweet fix of victory to get me through the night and silence the drums. So something, anything that shakes up the suckus quo and gets us back on track is welcome.
Tonight, that something is Victor Martinez.
I'm not expecting the guy to hit for the cycle. Nor am I penciling him in for six home runs and 15 RBIs. But the very fact that he'll be back in the line-up tonight is a reminder that this season ain't over, despite the Sox' best efforts to close it out on this west coast swing.
So, let's go make things happen. To the Angels.
Oh, and if you haven't already, mark your calendars for the Surviving Grady Jimmy Fund Telethon Fundraiser at the Lansdowne Pub on August 19. Curiously, we'll be playing the Angels that night as well.