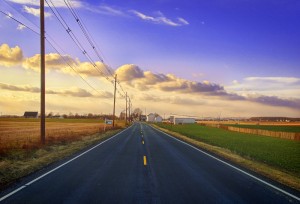 In seasons past, the not-so-olden days, the west coast swing spelled an early exit from the play-off race for the Red Sox. It was always looming out there around this time of year. A huge black cloud on the horizon, waiting, like the middle-school bully to ruin your day.
This season, it would have been easy for the Sox to let it happen just that way. Can't you hear the excuses?
"There was a lot of turbulence and the seats on the plane didn't recline properly. And those towels weren't hot, they were lukewarm!"

"They only served Poland freakin' Springs water. No Fiji?"

"Papi's lime salsa isn't so fragrant on the exhaust side"
But no, these guys are resilient. In fact, Matsuzaka is Japanese for resilient. Look it up. The Dice went out last night and pitched his ass off. When he started tiring, Tito simply went out, handed the ball to Bard, and got Dice-K out of a bit of trouble. The ninth inning belongs to Papelbon, and just like that the Sox are 1-0 on their 10-game road trip.
I have tried to stay positive all season, despite the train-wreck of injuries. Games like this one are the reason why. And really, this trip isn't what it used to be. Oakland is a .500 team, Seattle is playing for pride, out of the race by 17+ games, and the highly overrated Mike Scioscia is sure to mismanage at least one game in the Angels series.
As a bonus, the Sox get Clay Buchholz andJosh Beckett back during the trip. I can realistically see the Sox going 7-3 and coming back to Fenway with some momentum. And as guys like Pedroia, Ellsbury, Tek and Martinez start to re-appear on the line-up card in August, look the f@#k out.