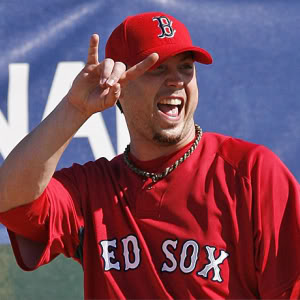 If the Red Sox go on to the playoffs and make some noise in October, we can look back at this Angels series as the turning point. After losing the series in Oakland, followed by a dismal split against the lowly Mariners, the road trip could have turned the Red Sox into sellers at the trading deadline. But just when it really looked like the season was spinning towards the drain, the fill-ins starting to show why they're fill-ins, Buchholz, Lackey and Beckett stepped up big and powered through some poor defense and nutbusting squanders to each notch wins in the series.
Beckett's line shows seven innings, five hits, and three earned runs. In reality, it could have been a three-hit shutout for the Commander. Hermida, for the second game in a row, looked like a basketcase in the outfield. His half-assed attempt at a fly ball extended the second inning to help the Angels score two runs. Sidenote: Hermida has two hits and nine strikeouts since coming off the DL. In the fifth, Hall lost an easy pop-up in the sun for a bloop double and ended up scoring. Neither blunder was scored an error and Beckett gets charged with the runs.
After leaving eight runners on base and scoring all three runs on solo shots, the Sox loaded the bases in the eighth with nobody out. This time, there would be no squander. Scutaro took the 1-2 pitch deep and that was all the Sox would need. Delcarmen and Ramirez mopped up the last two frames and the sweep was complete. A much-needed day off tomorrow and then the Tigers come to town for the weekend.
Mark down July 28th as the day the season turned around.