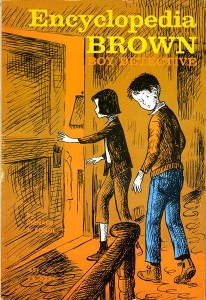 Any nine-year-old fan of the Encyclopedia Brown books could solve last night's mystery: what do you do with Big Papi at the plate in the eighth inning of a one-run game?
The first clue was already public knowledge, no sleuthing required. Ortiz had already belted his 20th homer of the season back in the third inning. When Youk stole second on the second pitch of the at-bat, making the count 2-0 and leaving first base open, this case should have been cracked wide open. The next pitch was ball three and you could just picture the way this thing was going to end. But no, the 3-0 pitch was hammered just foul. Mystery solved, surely that is the evidence Scioscia was looking for. Wrong again. A couple foul balls later, Papi added number 21 to his legacy. And you just have to wonder whether it's obstinacy or just plain stupidity that makes Scioscia keep pitching to Ortiz.
The mismanagement was magnified when Matsui smacked a would-be go-ahead two run shot in the bottom of the eighth. Things got crazy in the ninth, starting with the Red Sox putting on a "how notto lay down a bunt" clinic, starring Eric Patterson and Marco Scutaro. While Scioscia napped comfortably in the dugout, his rookie pitcher got knocked around a bit. Drew blasted a two-run double off the top of the right field wall that somehow bounced back onto the field. Drew would later be gunned down at the plate trying to score on a wild pitch…even though the replay clearly showed he was safe.
Papelbon notched a four-out save, and the Sox kept pace in the AL East.
Things to watch out for in the series: After Ortiz's second long-ball, Beltre got beaned and warnings were issued. An Angel player will likely pay for that.