Fourth of July means two things in my family: Booze and jetpacks. But others will likely spend the better chunk of the next 48 hours sweating their balls off in a snarl of traffic to the Bourne Bridge. And that's fine, if you're into it. Just know that I'll be soaring through the skies far above you, strung out on Coors Light and patriotism.
On the other hand, some of you might be staying local to take in the Sox-Os series at Fenway. If you're looking for tickets, why not check out our own Sox Addicts Tickets, where you can compare costs across a number of brokers to find the best deals. Interestingly, if you're heading to New York and want to check out the Yanks and Jays at the Toilet, there are good deals to be had, as the graphic below indicates: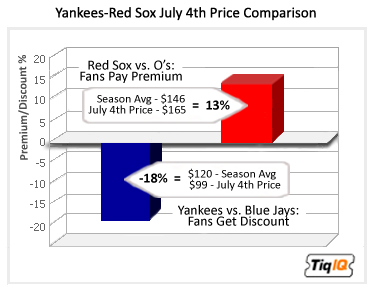 Anyway, speaking of TiqIQ, we're running a special holiday contest in conjunction with the geniuses behind Sox Addict Tickets. All you have to do is answer a simple question, but the more creative and elaborate responses have a better chance of winning:
Where are you going to watch the Sox-Os game on July 4th?
Put yer answers in the comments section. The most creatively insane (or insanely creative) will snag a $100 eBay gift card. Contest runs through July 4 at 11:59pm and we'll announce the winner on July 6.