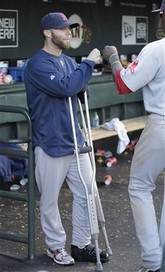 By tomorrow afternoon, we're going to know who is in for the stretch run. The looming menace of the trading deadline will have passed, and anyone reporting for duty in a Red Sox uni starting August 1st damn well better be in this thing to win. Despite the fact that the Sox have endured a season with a body count higher than a Friday The 13th sequel, the Sox are still contenders. Seven behind the Yankees, five-and-a-half behind the Rays, plenty of head-to-head mash-ups with both teams, and the Yankees and Rays will be beating each other up this weekend. It can be done.
The injuries have sucked. For a while, it seemed every night we were down another player. But the team has persevered. And now, it becomes a matter of tolerating pain instead of being healthy. And that is where I have a problem with some of the players.
Take Dustin Pedroia: just a couple days after breaking his foot, he was on his knees taking pre-game grounders to keep his hands quick. Tito and the medical staff have essentially had to put him in Hannibal Lecter-style restraints to keep him from putting on a fake mustache and penciling himself in on the line-up card as "Justin Fedroia." Mike Cameron is essentially playing with rubber bands holding his body parts on and caffeine and Beef Jerky keeping him fortified. Victor Martinez has modified his glove with Kevlar or some shit just so he can keep catching and had to fast-talk Tito into putting him in Wednesday's game. All three are officially on my list of badass baseball players.
I don't even know where to put Mike Lowell in this discussion. I'm not sure he was ever hurt, I tend to think there simply isn't a position for him. Whatever the case, he is hitting the crap out of the baseball in Triple-A.
Then, you have the other guys. JD Drew was a late scratch on Tuesday night with a lingering hamstring injury. He wasn't in the line-up again on Wednesday. The MRI showed nothing serious: "a very mild strain." Drew is hitting under .200 for the past ten games. You could argue it is because of the injury that he isn't hitting, or you could argue that the "injury" flared up becausehe wasn't hitting. You be the judge. And of course, we have Jacoby Ellsbury. Not a lot of gray area in the delineation of opinions on this one. People seem to think he's a pussy, or they sympathize with the pain broken ribs can cause. Most of those sympathizers are accountants who once broke a rib and couldn't wield a pencil for months. I guess it's clear where I'm leaning on that one.
It's time to shit or cut bait, boys. Either man the f@%k up or go piss in a sock. As my pappy never said, the corn's getting high in the fields. I'm not ready to start thinking about football just yet.