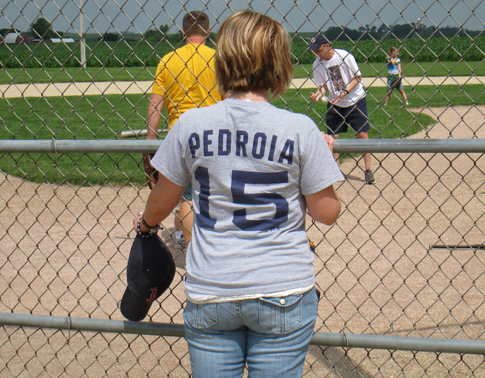 Time now for SG to become the 375th site on the planet to drop a list of highlights from the first half of the season:
Fenway Opening Day: Yes, we wiped the place with Yankee arse, which is always a nice way to kick off a new season. But what put this one over the top for me was the glorious return of Pedro Martinez to throw out the first pitch (an event tarnished only by the soundtrack of Phil Collins' "In the Air Tonight." Jesus McChrist, Fenway Music Selection People, you couldn't have come up with anything better than that? AC/DC's "Heatseeker" would have made me happier, and I'd rather listen to the sound of my own teeth getting kicked out of my head than AC/DC). Holy shit, did we bring out the love for this guy. And every ounce of it was well-deserved.
April 20, vs. Texas: Before April 20, the question, "Who is Darnell McDonald" might have been answered with anything from "the UPS guy at my office" to "I dunno. Ronald's cousin?" But after McLovin nailed a pinch hit home run then drove in the winning run with a walk-off single, we were all members of The Darnell Army.
May 22, vs. Philadelphia: Daisuke Matsuzaka's near no-no against the reigning NL champs — spoiled with two outs in the eighth — was a stark reminder of the way this guy can hurl when he's "on." When that Matsuzaka shows up, happy times arrive.
May 27, vs. Kansas City: we lost the game, but this night was infamous for marking the return of El bencho himself, Kevin Millar, now a NESN commentator. He kicked things off by passing out "shots" to Jim Rice and TC. Then… shit, I don't think I've seen him on air since. He still works there, right?
June 12, vs. Philadelphia: Another Philly game, another highlight. This time, Daniel Nava pulled a Darnell McDonald, morphing from Obscure Call-Up to Homecoming King in mere minutes, plugging a grand-slam on the first pitch of his first major league at bat. That's the stuff that movies are made of, folks. Honorable mention goes to Manny Delcarmen, who caught the home run in the bullpen — one of the highlights of his season, sadly.
June 24. vs. Colorado: The Elf went nuclear, launching three home runs and reminding us why he coined the phrase "laser show." The next day, he broke his foot. God is funny sometimes.
Your own highlights go in the comments. Let's have 'em.