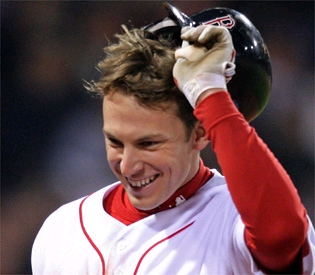 Last night really shouldn't be a surprise. The human saliva factory held our minor league bats in check while Dice-K bobbed and weaved out of trouble all night. Manny Delcarmen stepped in and continued his Ramiro Mendoza impersonation, giving up five runs in, well, zero innings. And that's all she wrote.
One of the highlights of the night was a Heidi Watney game break. Sadly, it wasn't because she wore a Saran Wrap tube-top. But I digress. The report showed Dustin Pedroia, he of the broken foot, taking ground balls before the game on his knees to keep his hands quick. She went on to quote Tito:
 "He's a maniac. He knows he can't put any weight on that foot and he knows he's going to slow himself down if he does. He'll abide by the rules but he's going to bend them as much as he can."
That's the kind of guy I want on my team. And I have to wonder how JD Drew feels seeing that, as he sits out with a stiff neck. But the story got me thinking about all of the Red Sox players on the DL, and a name from the hazy past came to mind: Jed Lowrie. Last I heard, the guy had the sniffles. Now, here we are at almost the halfway point in the season, and his name is further in the past than "Jacoby Ellsbury." On May 9th, NESN reported the following:
According to NESN.com's Red Sox reporter Tony Lee, infielder Jed Lowrie has gained four pounds and is combining baseball-related activities with strength and conditioning this week for the first time since he came down with mono in March. Manager Terry Francona said he could be playing games again in about four weeks.
My math skills aren't the best, but four weeks from May 9th…well, it was a while ago. Now, we suffer through the post-loss off-day before heading into the Fourth of July weekend. Despite all the injuries, the Sox were 18-9 in June and are just a game out of first. Where would a healthy Red Sox team be? Perhaps July will show us.