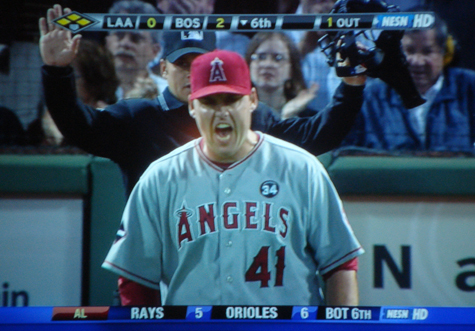 I've never been a big fan of Jered Weaver. So I'm kinda sorta hoping that scrawny dink decides to carry over last night's HBP shenanigans into tonight's game. Because I wanna see Youk (the likeliest recipient of a beaning) flip him like a motherf$%king blond pancake. A girlie pancake. Because that's what Jered Weaver is.
That said, I did like this quote from Weaver in today's LA Times:
[Tonight,] there will at least be a friendly wager between Lackey and Weaver.

"I don't know if we can print that or not," Weaver said, smiling. "We'll see what happens. We'll definitely have a couple of cold Pepsis after the game to talk about it."
I'm also hoping that Big John Lackey can keep his emotions in check as he squares off against his former team, and throws a game like he ain't never thrown before. Because, goddam it, I'm tired of the f#$king west coast and tired of watching the Sox falling further down the AL East charts and I want to end this madness with a sweep of the Angels. Is that asking too much? I didn't think so.
As for the reception he'll get from the Anaheim crowd, Lackey wasn't sure what to expect. But he did offer insight into how much more intense the Fenway atmosphere can be: "It's a little different. Everything's amped up several degrees."
You got that right, Cecil. And I hope you get your ass amped up for tonight. This is where you earn the paycheck, brutha. Crank it up and sit 'em down. We've got your back.