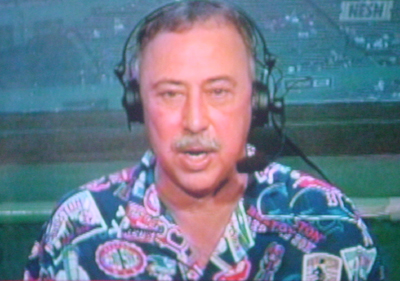 Hard to believe, but there was once a time when Jerry Remy wasn't the Red Sox' color analyst. In fact, with all due resepct to Bob Montgomery and… well, whoever else came before him, I refuse to believe it. All it took was his absence from the booth for much of last year to remind me that a world without Remy is no place for me.
Thankfully, I won't have to fret about it. The Dawg just signed a "multiyear contract extension" with NESN, meaning Remy will continue to be a critical part of "the Red Sox Experience" for much of the foreseeable future.
I can only hope and assume that part of Remy's extended duties will include grooming another Red Sox second baseman, Dustin Pedroia, to one day take his place behind the microphone. F$%k yes!