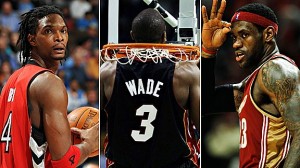 Welcome LeBron James! Not to Miami; to the elite club of those who think they're bigger than the game. Think about A-Rod and his contract opt-out BS, or Brett Favre and his annual tearful farewell tour. What James and his henchmen pulled off this week (yes, I've been dying to use "henchmen") may top the list of player shenanigans.
Clearly, LeBron and company have known for a while what was going to happen. Not to mention ESPN going along for the ride with the hour-long charade they called "The Decision" where James announced he was heading for Miami. Bosh and Wade acted as stooges, saying how getting LeBron to join them in Miami was a fantasy, after they announced their agreements with the Heat on Wednesday.
Meanwhile, Cavs owner Dan Gilbert was left to wait like the rest of the world to hear LeBron's decision tonight. And he didn't take the news well:
"You simply don't deserve this kind of cowardly betrayal," Gilbert said in the letter to the fans. "You have given so much and deserve so much more. In the meantime, I want to make one statement to you tonight:

"I PERSONALLY GUARANTEE THAT THE CLEVELAND CAVALIERS WILL WIN AN NBA CHAMPIONSHIP BEFORE THE SELF-TITLED FORMER 'KING' WINS ONE. You can take it to the bank.

"This shocking act of disloyalty from our home grown 'chosen one' sends the exact opposite lesson of what we would want our children to learn. And 'who' we would want them to grow-up to become," Gilbert said. "But the good news is that this heartless and callous action can only serve as the antidote to the so-called "curse" on Cleveland, Ohio."

Fans in Lakewood, Ohio were so enraged at James' decision, they burned jerseys and t-shirts of their former idol.
Personally, I think LeBron quit on his team against the Celtics and didn't buy his injury drama (which seems to have disappeared) during the series. Maybe Gilbert got a wee-bit carried away about Cleveland winning before James does, but I hope LeBron never wins a championship.