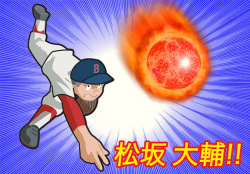 If I told you the Red Sox starter went eight shut-out  innings, gave up just four hits and two walks while striking out five, and the game was over in three hours, would it ever even enter your mind that the starter was Dice-K? He now has a 15-inning scoreless streak going after giving up three runs in the first inning against Oakland. Did that eight-walk debacle against the Royals finally get this guy on track to stay? Or was it just part of a bizarro night where Ortiz beats out a double-play ball and Martinez throws out a runner trying to steal?
Whatever the case, the Sox need to continue riding the wave of getting wins against crappy teams. Three more games against the Indians should add up to three more W's. After that, the rest of the month is devoted to baseball's corner of Hell known as inter-league play. The Phillies, Diamondbacks and the Dodgers come to town, then the Sox go on the road to play the Rockies and Giants. Sounds like a good time to catch up on some reading or finally build that addition on the birdhouse I've been meaning to get to.
But I'm getting ahead of myself: tonight, it's Wake. Tito needs to keep a short leash on him, like, choke-collar short. The upcoming inter-league games can be messy, the Sox need to stockpile wins before that shite starts. That means no five-inning, seven run line score for Timmy. If he doesn't have it early, let the bullpen take over. Let's not give Cleveland their 22nd win on our watch.
Note: Trevor Crowe is a pretty badass name.