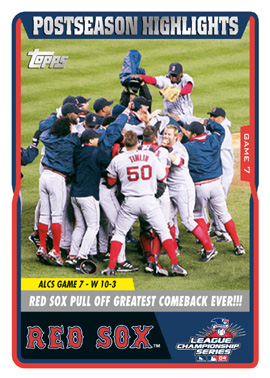 There's nothing I dig more than a walk-off home run at Fenway Park, punctuated by a massive pile-up at home plate. But I've often wondered how the hell the players keep from breaking a leg or an arm or suffering some sort of debilitating injury in those melees, especially since they often include a hyper, ultra-sweaty Kevin Youkilis.
Turns out that Kendry Morales of Anaheim learned the hard way. He lept into a home plate pig-pile to celebrate his walk-off grand slam Saturday night, and emerged with a broken leg.
It's an interesting reminder of the type of shit that can go wrong when you least expect it. And one of the worst ways to lose a key contributor for a good stretch of the season.
Since 2003, we've been fortunate to have seen a number of dramatic, come-from-behind wins that culminated in a mad rush of players to home plate. Luckily, we haven't lost anyone yet. But if I'm, say, Marco Scutaro, and I belt a walkoff home run at the Fens, the last thing I want to do is leap into any home plate celebration that could end with Ortiz stepping on my foot or Youkbacca sitting on my head—scenarios the common man strives to avoid in every day life. I'd just tip my hat to the crowd and hustle my narrow ass right out the gates.