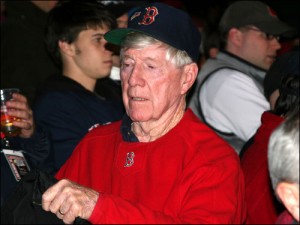 I don't think anybody really knew what Joe Morgan meant when he said "six, two and even." Hell, I don't think Walpole Joe had much of a clue either, I'm just glad he remembered to put pants on most days. Then he hopped on his John Deere or snowplow…whatever…and rode off into the sunset.
While the Red Sox were showing the Diamondbacks a little something about American League baseball, the Rays and Yankees were busy losing. Jamie Moyer, all hopped up on Metamucil and uncashed Social Security checks, three-hit the Yankees through eight innings. And here we sit on June 16th, a mere three games out of first place in the AL East.
Tomorrow, the Sox complete the sweep behind Mr. Lackey. The game time was moved up to get folks home in time to catch the Celtics finale. I'll be checking in following that game, as it is well documented that Red is very uncomfortable discussing "back door passes" and "dribble penetration." Something to do with a weekend spent in protective custody in Pensacola during spring break. 'Nuff said.