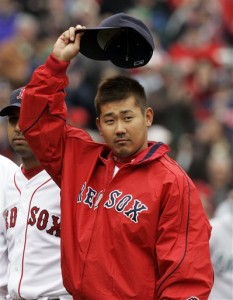 Wow. Where do I begin? The Red Sox grab another win behind a walk-free Dice-K outing. Matsuzaka went six-and-two-thirds giving up three earned (all in the first inning) while striking out seven. But he walked none and only got to a three-ball count on two batters. Can this guy actually be putting it together or is he going to unravel in his next start? He has been on the "every other start sucks" schedule lately.
The Big Man (AL Player of the Month) continues to mash despite the calendar flipping from May to June: Ortiz was 2-for-2 with a double, a two-run homer and two walks. He is now batting .275 on the season and looking like vintage Papi.
Not to be outdone, Jon Lester is AL Pitcher of the Month for May.
Elsewhere, Junior Griffey is calling it quits. Hard to believe he's only 40…
The biggest story of the night comes from Detroit. Armando Galarraga was robbed of a perfect game in the ninth inning, not by a cheap single, by the first-base umpire.
Jim Joyce admitted the mistake following the game:
"I just cost that kid a perfect game," he said. "I thought he beat the throw. I was convinced he beat the throw, until I saw the replay.