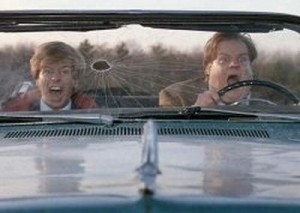 Once again, the Red Sox managed to make a crappy team look good. After Yo-Adrian homered in the ninth to give the Sox the lead, Bard gave it right back. Ug-ly. Cleveland gave the Sox five walks and four errors, but I guess the Boston is too proud to accept charity. The Yankees and Rays both lost and another opportunity is squandered in cheese-grater-to-the-nuts fashion.
Jon Lester put in a rare shaky performance, giving up six runs in six innings. But the real story is the lack of clutch hitting against a patchwork pitching staff in Cleveland. The Sox had twelve hits, but they left nine stranded in what could have been a blowout with a timely hit or two. The Sox went so far as to pinch hit some salt-and-pepper-haired dude in the ninth looking for a spark.
The Red Sox come home for Interleague hell. Seriously, we've been watching this abomination long enough to know it could get ugly. Pitchers hitting, double-switches…it's all very confusing.
Meanwhile, Big Baby Davis and Nate Robinson are taking the game over and leading the Celts to victory.