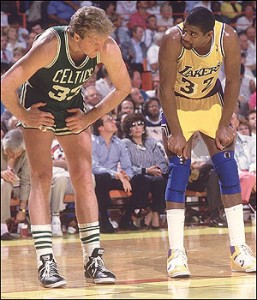 Celtics – Lakers. A rivalry as intense as Sox – Yankees but played for the championship. Twenty-seven seconds into the game, Pierce and Artest were T'd up for grappling under the basket. This will be a great series.
When the Celtics were playing the Cavs, I couldn't stand LeBron. The way he just expected to follow the yellow brick road to the finals. It was a joy seeing him and his team quit.
Then I got to know Dwight Howard. Before I knew it, LeBron took a back seat and my dislike of Howard grew to biblical proportions. Having not seen him much, I never knew how dirty a player he was. So the Celtics took care of business, and once again, I enjoyed seeing a big man fall hard.
Now the Celtics are facing the Lakers and the real meaning of despise for an opposing player is redefined for me. Kobe Bryant. He's a one-man team with no regard for the rest of the players on the court. He will shoot each and every time he touches the ball and have a look of Jeter-like arrogance on his face. And he is an accused rapist. Not very likable, true?
A shaky first half so far, but I have faith in Doc and Rondo to lead the way to a Celtics win.
108-99, Celtics take game one.