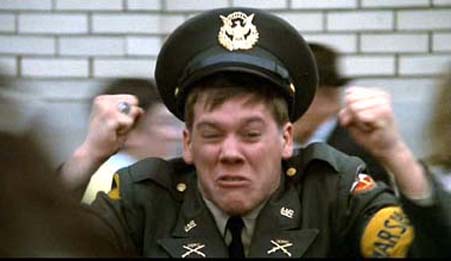 Honestly, I can't. And I'll tell you why:
1) His name isn't "Roger Clemens."
2) He is, as I mentioned in the previous, overly-presumptuous post, a seemingly nice dude who was always pretty stand-up in his tenure with us.
3) His name isn't "Roger Clemens."
I guess the only thing I know for sure after tonight's game is that The Boof Bonser Era might be more short-lived than I originally suspected. In a staggering display of ineptitude that bordered on black comedy, Doc Bonser and Joe Nelson combined to give up seven hits, five walks and eight runs in the eighth inning, instantly earning themselves a free "post-game wedgie" from their teammates.
The bats, meanwhile, got lost in transit. Our offense could only muster two hits, and whenever that happens, unless those two hits happen to be grand slams, you really can't expect to win.
Buchholz certainly wasn't bad — just three hits and three runs over seven innings — but Masterson was money striking out 6 and keeping our apes off balance all night.
Simply put, this was just one of those games in which nothing went right for us. So you just bend over and take it and hope things go better tomorrow night.
By the way, your films won a prize: