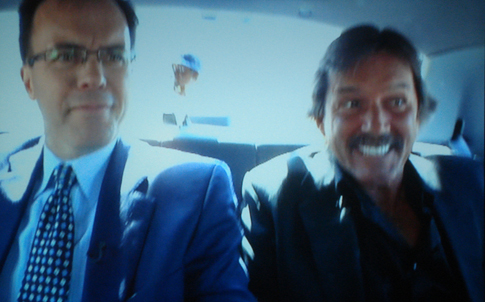 If this is the best the National League can offer us — and I base that solely on the Phillies' status as reigning NL champs — then get our asses to the World Series pronto. Because the way our bats and pitching have been clicking during this brief foray into interleague play, I'd be willing to bet the house on another four-game sweep.
Yesterday looked like one of those games that could easily slip away, what with Matsuzaka a late scratch due to forearm strain and his replacement, Scott Atchison, giving up a couple runs in the second inning. But in the Sox half, the offense came up gold, with a Drew homer, three straight hits, and a first-pitch grand slam from rookie Daniel Nava, who joined Darnell McDonald as our second bona fide cult hero of 2010. There's a great piece on Nava in today's ProJo:
Daniel Nava wasn't just done playing baseball after he was cut from the team his freshman year at Santa Clara. Nava was an equipment manager. He was an intern. His freshman year of college, almost 10 years ago now, Nava was washing jerseys instead of playing in them. He was charting pitches. He was making photocopies. He was compiling film.

"The door had been shut," he said. "I thought that my time was over."

Nava was called up to the major leagues by the Boston Red Sox on Saturday. He was assigned a locker next to a couple of staff assistants, a locker that didn't yet have his name on it. He took batting practice in a group with Mike Lowell. He signed a couple of autographs when he poked his head out from the Fenway Park dugout. He was in the starting lineup, playing left field and hitting ninth, against the Philadelphia Phillies.

And then he hit a grand slam on the first pitch Joe Blanton threw him.
A wild story, but it makes sense in what has been a long, strange trip of a season thus far. After stumbling out of the gate, the Sox are tearing it up, now touting the fourth-best record in the AL and standing just four games out of first place. This afternoon, we get Tim Wakefield looking to pad his lead as the Sox' innings-pitched champ.
The way this weekend has been going, who are we to doubt him?