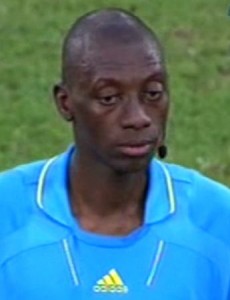 I know a lot of people in the US aren't big soccer fans, but I had the opportunity to skip work and watch the USA vs. Slovenia match this morning, and it was a great game. Never mind the fact that I thought Slovenia was a made-up country. After trailing 2-0 at the half, US came roaring back to tie it up. With just a couple of minutes left in the game, the US scored the apparent go-ahead goal, but it was disallowed on a "foul" that only the referee saw. When interviewed after the game, Koman Coulibaly said "hey, I thought I saw Kobe in a Slovenia jersey, so there had to be a foul, right?" Thanks to a 0-0 tie later today between England and Algeria, the US advances with a win against Algeria on Tuesday.
Tonight, we welcome Manny back to Fenway Park. While Red and I don't always see eye-to-eye, me and Puppet Red seem to be of like mindset. Without Manny Ramirez, we would probably be counting 90-something years since the Red Sox won a World Series. At times in 2004, he carried the team on his back. And he was a major part of it again in 2007. That is what I choose to remember. Yeah, things sucked at the end, but mysteriously, a lot of "bad stuff" seems to come out when the Sox are trading a big-name player.
Had I managed to sell a kidney to afford tickets for tonight, I would be cheering my ass off for the guy who helped end the championship drought. So if you're going to the game, cheer for Manny. But don't do it for me, do it for Puppet Red.