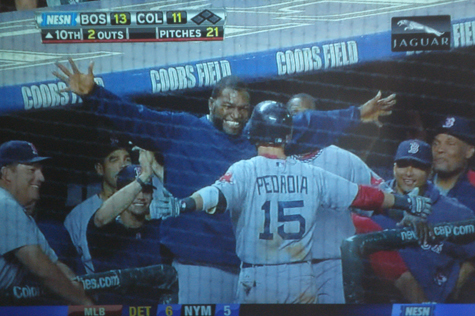 Dustin Pedroia is a f#$king animal. End of story.
Despite the Red Sox' best efforts to blow last night's game, the Elf almost single-handedly threw everyone on his back and went all Charlton Heston in The Omega Man on Colorado, going 5-for-5 with three freakin' home runs, including a two-run shot in the tenth that helped erase another meltdown from the Papelbot.
Why the Rockies decided to pitch to Pedroia, who was 4-for-4 with 2 home runs at that point, is anybody's guess. But we'll take it. And I can only hope that Papelbon did the right thing and took the Elf out for steaks and hookers after the game. Because, really, he earned 'em.
Also, look closely at the screencap above. See that guy in the upper left corner? That there's Scenic Lowell. A guy who isn't simmering in the clubhouse, jawing to the media about how he's being treated by the team, or using the office copier to make up some resumes. Instead, he's out there flailing his arms and cheering on his teammates and going f#$king nuts when crazy ass shit goes down. Crazy ass shit like Dustin Pedroia launching three home runs!
Oh and the last guy to hit three home runs in a game for the Sox? El Bencho himself: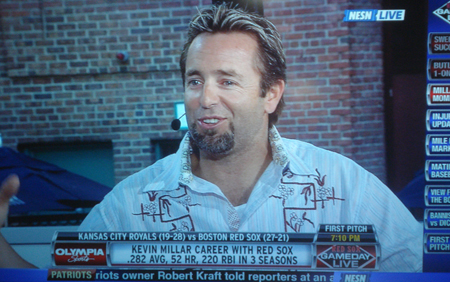 Meanwhile, don't look now, but the second-best record in the AL belongs to… the Texas Rangers.