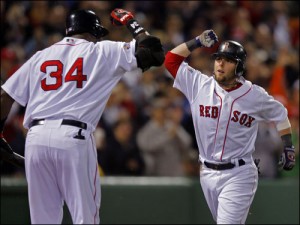 As Red pointed out  the other day, Dustin Pedroia has turned into the team's quotable gangster. And he did not disappoint  when asked about the bomb threat called in to Fenway on Wednesday:
A television report about the threat caught the attention of several Red Sox players as they prepared for the 7:10 p.m. game. But there was no concern, only a few jokes.

"Bomb squad?" second baseman Dustin Pedroia said. "They're early."
Pedroia is also becoming a one-man highlight reel with his defense at second. He made several great plays in the Angels series alone, and has not made an error since…I don't know, sometime last season.
Clear a spot on the mantel.