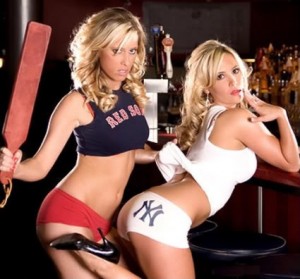 Watching any of Boston's sports teams last night was like getting a rectal exam by a guy wearing sandpaper gloves. Weather permitting, at least the Sox will have a chance to get even. But it won't be easy with Baloo on the mound. Somebody better slip Tito the caffeinated Bigelow today, because by the time he woke up in the sixth, Beckett was toast and the game was long over. I can't remember the last time a Red Sox pitcher, clearly in a state of China-Syndrome-style meltdown, was left hanging out to dry the way Becks was.
Buchholz (foaming-at-the-mouth sports show people want him in the 'pen?) goes for the good guys today and we have to expect Mike Lowell as DH against CC. We need this game to prove the Angels series was no fluke. To prove we were good, not just that the Angels and Scioscia are that bad.
Time to channel your inner Millar and Cowboy Up.