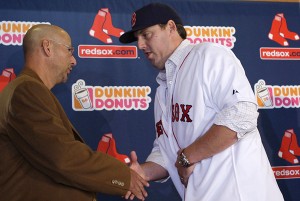 Ex-Angel John Lackey will face his former team for the first time since joining the Red Sox. Oddly, Ex-Red Sox Joel Pineiro will start for the Angels. I think we got the better of that uniform swap. Other than his disastrous start against the Rays, Lackey has been very good. This is a perfect opportunity for him to stick it to Scioscia on the field the way he already did verbally:
"It is different," Lackey said when asked about the Angels' tendency to watch their own players leave when they reach their free-agent years rather than match or top offers from other teams.

 

"The way they preach the team game and the way you're supposed to give it up for the team – that's a little suspect. You're supposed to give it up for the team. Then when it comes time, they might not want to give it up for you. . . . I totally knew what the situation was (when he reached free agency). I knew it was a possibility. I was prepared for that. That's the nature of the game today."
Not to be outdone by the Phillies, Red Sox security will be placing snipers high atop each light stanchion to take out anyone that runs on the field. The old bullpen golf cart has been re-purposed as a meat wagon to remove the bodies.
Play Ball!