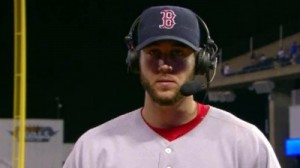 More heroics from an unlikely source, another shaky closing effort from Paps, and we're back even at 20-20. It seems to be the theme for the season, taking the good with the bad. Ortiz went 2-for-3 with an RBI, Drew left with a couple of injuries. Youkilis starts showing his MVP potential (including a big hit against Joba), Scutaro makes a couple more errors.
But as suck-filled as the loss in the first game was, last night's win turned the tables and sent Joe Girardi home crying about the Beckett injury:
"To me, he shouldn't get all his pitches there," Yankees manager Joe Girardi said. "In my eyes, it was not done in the right way. Anytime a guy is in trouble, you signal to the bullpen and say, 'Oh, he's hurt.' That's a huge advantage."
Whatever Joe.
While the Red Sox face the Twins at Fenway, the Yankees and Rays will beat each other up for a few games. If Boston takes care of business, they will be gaining ground on someone. The Red Sox need a run to get back in this race, and they need it soon. May is slipping away and getting ready to hand the baton to June. Fourth place and eight games back will not be a nice place to be when that happens. Time to play better. Starting tonight with Buchholz.