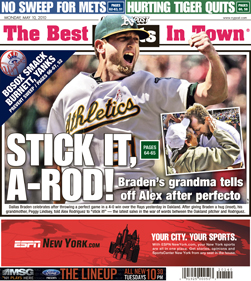 Good to see the Sox salvage the last game of the Yankees series on the strength of a masterful performance by Lester. But until the guys can put together some sense of consistency, we won't start pounding our chests like world beaters yet. Suffice it to say we're happy we didn't get swept, and that we actually gained a game on both the Yanks and Rays.
Speaking of the Rays, they were on the business end of history the other day, as Oakland's Dallas Braden hurled a perfect game against them. Of course, it all somehow links back to A-Rod, according to the New York Post:
But there were plenty of interested observers at Fenway a few hours before the Red Sox beat the Yankees in this series finale, 9-3, beginning with Rodriguez. He first introduced himself to Braden by trotting across the mound on that very same Oakland Coliseum field on April 22, an act of alleged insolence that may or may not be a breach of some deep-seeded baseball protocol, but certainly sent young Braden off into a rage.

Forty-eight hours later, Braden was mowing through a Tampa Bay lineup that was reputed to be one of the most fearsome in baseball, and he was extending those 15 minutes to forever, actually engaging A-Rod in a footrace to the history books on a night when the slugger tied Frank Robinson on the all-time home run list with 586.

It was something of a heartwarming Mother's Day story, too. Afterward, Braden embraced his grandmother, Peggy Lindsey, who raised him after his mother died of melanoma nine years ago at age 39. A.J. Burnett couldn't have known any of this as he cracked wise (no doubt speaking for more than a few of his teammates) and said, "I love you, Grandma. Now stay off my mound!"

And he probably wouldn't have cared once he was told of Ms. Lindsey's immediate and subtle commentary when she spoke with Bay Area reporters after her grandson's epic afternoon: "Stick it, A-Rod."
Everybody's grandma should be that awesome.