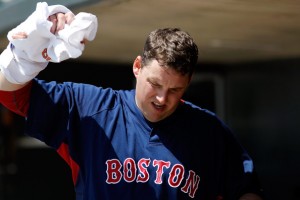 The Red Sox squeaked out a win last night by invoking the "our starter sucked a little less than your starter" rule. Brandon Morrow was sent packing before the end of the second after giving up six runs. John Lackey managed to get through six innings, and actually get a win, while giving up six runs. The bullpen combo of Oki, Bard and Papelbon went three innings and allowed just one baserunner on a Daniel Bard walk. Good news for the bullpen, but is anybody worried about the long-term signing of Lackey?
Lackey is now 4-1 with a 4.60 ERA, but has gotten shelled twice by American League East teams. And both times at Fenway Park. I was not thrilled at the signing because of Lackey's ineffectiveness against the AL East in his career:
One of the more disturbing issues is Lackey's ability to pitch against the AL East and specifically in certain parks: one of those being Fenway. In his nine career Fenway starts, Lackey is 2-5 with a 5.25 ERA and .314 BAA. Career at the Trop: a lofty 6.75 ERA and .302 BAA. And career stats versus the Yankees: a 4.66 ERA and .289 BAA.
Lackey pitched a beauty in his first start against the Yankees and has kept Baltimore under his thumb, but last night against Toronto was shaky at best and his worst start was at home against the Rays. With Beckett struggling  and Dice-K being Dice-K, Lackey's role becomes even more critical to the success of the team. And I am not bursting with confidence in his ability to shoulder that load.
But a win is a win and we picked up a game on everybody, always nice. Seeing Martinez and Papi deliver with runners on is never a bad thing either. What we need now is more Jade McCarthy!