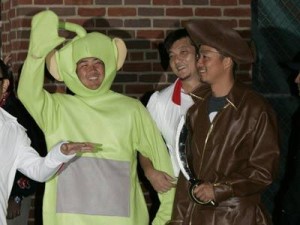 Well, Red went and upstaged me again. Sure, he tells me, we're just migrating to a new blog format. Next thing you know he's got a puppet in his likeness doing his dirty work for him. What next? "Red" action figures? A Saturday morning cartoon? A reality show? And let's get right down to it – where's the Denton puppet???
Anyway, we're back and so is the hundred-million-dollar-man. Dice-K takes the hill tonight for the first time in 2010. After a series of injuries hampered him in 2009 and through the spring, Dice-K has looked sharp in rehab outings and should get an easy re-entry in the bigs against the Orioles. Despite sticking it to us in extra frames last night, the Orioles really suck and if the Red Sox had taken advantage of the 10 walks issued last night, we'd be another game closer to the Yankees.
The Bruins already won, the Celtics play LeBron and Cleveland tonight…let's go for the trifecta.