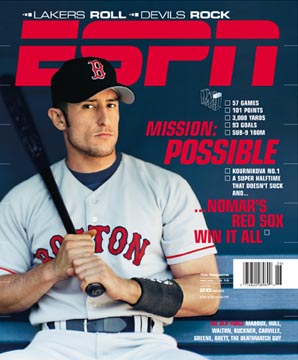 Count me among those who were saddened to see Nomar Garciaparra entering the 2010 season on the brink of retirement (maybe).
In fact, having watched him flail away through his utterly unspectacular post-Sox career, it's hard to recall that the guy was once the pride of Boston, the epicenter of all things right with the Sox, and an important cog in what we dreamed could be a number of Championship-winning line-ups. In our minds, he was the gritty workhorse to Jeter's slick Gotham show horse, and we never let the Yanks forget it whenever they rolled up into town.
Hell, he even got baseball's equivalent of a blessing from the Pope when Teddy Ballgame got all giddy upon seeing his grinning mug during the pregame to the 1999 All-Star Game at Fenway. And I'll never forget how after the Sox crashed and burned against Cleveland in the 1998 ALDS, Nomar came out of the dugout and applauded the fans, because he knew how much it hurt us to have our fingers caught in yet another playoff door slammed shut.
Then he was gone. And in the 2004 afterglow, we didn't really even notice he was missing. But I still consider it an honor to have seen the guy play for us.
If life were like the movies, the Sox would invite Nomar to spring training, give him one of those "we can't promise you anything, but you might be a help to the kids in Pawtucket" deals, then call him up for a one night stand before the Fenway crowds before letting him go on his merry way.
Not bloody likely to happen. So, in the end, this will have to do:
Godspeed, Ramon in Reverse.