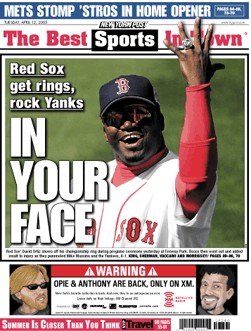 Sunshine, blue skies, banners, old-time players, flyovers, championship rings, old friends back in the park, the trophy. Monday was indeed a great day. Throw in a Yankee beat down with an A-Rod error, and its a near-perfect day. Near perfect only because Jennifer Love-Hewitt didn't show up at Red's for the now-traditional opening day event. Grilled meats, the annual whiskey-slammer and chocolate cake pregame snack, the parade by the Dave Henderson shrine in the dining room, and we're ready for some baseball.
Since October, being a Sox fan has been a wild ride. Winning the championship, especially going through the Bronx to get there, was unforgettable. Perhaps, though I hope not, once in a lifetime. It was a great reward to Red Sox Nation, finally removing the frustration that went along with all the good of being a Sox fan. That aside, it has always been great to be a Sox fan.
Fenway Park: Criticize the seats and the size all you want, Fenway is still magical. It is the cathedral of baseball, and it is ours. And I will be there tomorrow night to see Wells versus The Big Unit.
Yankee-hating: Being part of the greatest sports rivalry in history is special. Who else gets to utter with such distaste things like "Slappy McBluelips"?
RemDawg: Does this even need an explanation?
Tradition: Other fans are treated to such blissful distractions as dot races on the Jumbotron. We get "Sweet Caroline" and "Dirty Water".
Mrs. Johnny Damon: Well, you know.
Want to know one of the more subtle things I'm thankful for? No Ronan Tynan! Seeing him at Yankee Stadium getting ready to destroy "God Bless America" elicits feelings of hatred I'd thought my therapist had helped me "resolve". If they ever consider bringing him to Fenway, I'll scale the Coke bottles with my sniper rifle.
Schilling tonight.